ELRS Micro Receiver 2.4 Ghz
BETAFPV Micro receiver is based on the ExpressLRS project, an open-source RC link for RC applications. ExpressLRS aims to achieve the best possible link performance in both speeds, latency, and range. This makes ExpressLRS one of the fastest RC links available while still offering long-range performance.
ExpressLRS PWM Receivers
ExpressLRS now supports direct PWM output from receivers that have been specifically designed for this mode. BETAFPV ELRS Micro receiver features PWM output for the application of fixed-wing, helicopters, RC cars, boats and etc, and supports failsafe function, which can protect RC models from being out of control. Besides, the plug-and-play design makes it very easy and friendly to use.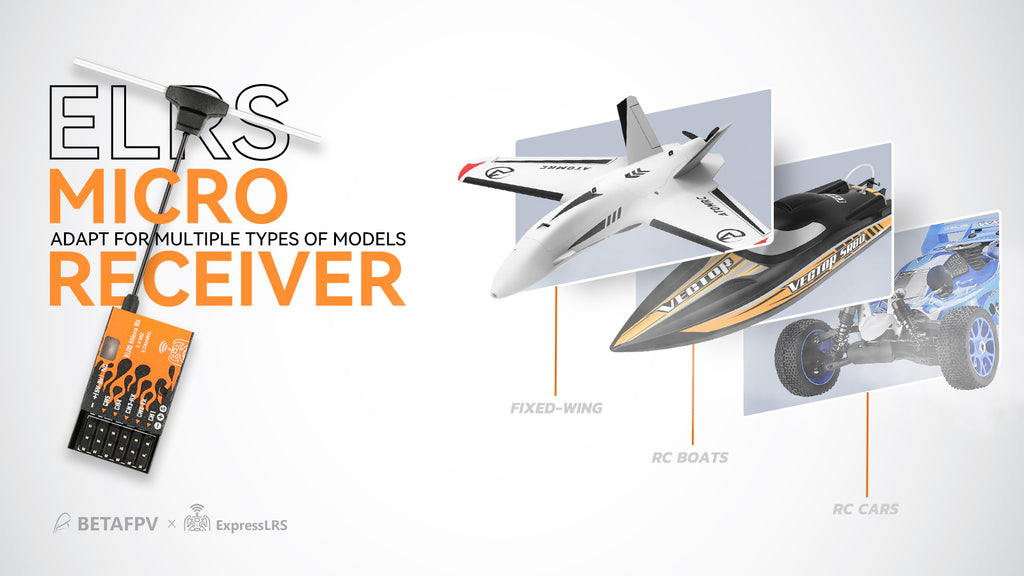 | | | | |
| --- | --- | --- | --- |
| | Micro Receiver | Nano Receiver | Lite Receiver |
| Weight | 4.5g with antenna | 0.7g (RX only) | 0.47g (Tower), 0.53g (Flat) |
| Antenna | IPEX MHF + T antenna | IPEX MHF + T antenna | Integrated SMD ceramic antenna |
| MCU | ESP8285, SX1280, SX1281 | ESP8285, SX1281 or SX1276 | ESP8285, SX1280 |
| Frequency | 2.4GHz | 2.4GHz, 915MHz (FCC), 868MHz (EU) | 2.4GHz |
| Telemetry Power | 17mW | 100mW | 17mW |
| Serial Output Protocol | PWM or CRSF | CRSF | CRSF |
| Model Type | Fixed-wing aircraft, Helicopter, RC Cars, RC Boats | FPV Drone | Whoop Drone |
Specification:
Item: BETAFPV ELRS Micro Receiver
Weight: 4.5g (with antenna)
Antenna: IPEX MHF + T antenna (recommend 80mm Dipole T Antenna)
PWM channel: 5 channels
Serial output protocol: PWM or CRSF
Size: 19mm*32mm*9mm (without antenna)
MCU: ESP8285/SX1280/SX1281
Telemetry power: 12.5dbm/17mW
Frequency bands: 2.4GHz ISM
Input voltage: 5V~9V DC @ "+" pad
Default firmware version: ExpressLRS v2.0
Adapted RC Model Type: Multirotors, Fixed-wing aircraft, Helicopters, RC Cars, RC Boats and etc.
4 autres produits dans la même catégorie:
Les clients qui ont acheté ce produits ont également acheté:
BetaFPV HX115 LR Toothpick BNF
FOXEER TOOTHLESS 2 Nano 1/2" 1200TVL
FOXEER T-Rex Mini 1500TVL 6ms Latency