Pavo Pico Brushless Whoop Frame
Pavo Pico is the Smallest 2S Sub100g DJI O3 Cinewhoop frame, compatible with other mainstream HD digital VTX on the market, such as Walksnail Avatar Pro Kit, Vista Kit, etc.
Based on feedback from pilots during the BETA TEST before, we have made upgrades to the frame, such as lowering the battery slot height and adding filters and camera protection parts.
These improvements will maximize the advantages of the camera and HD digital VTX providing, enabling a unique and unparalleled flying experience for pilots.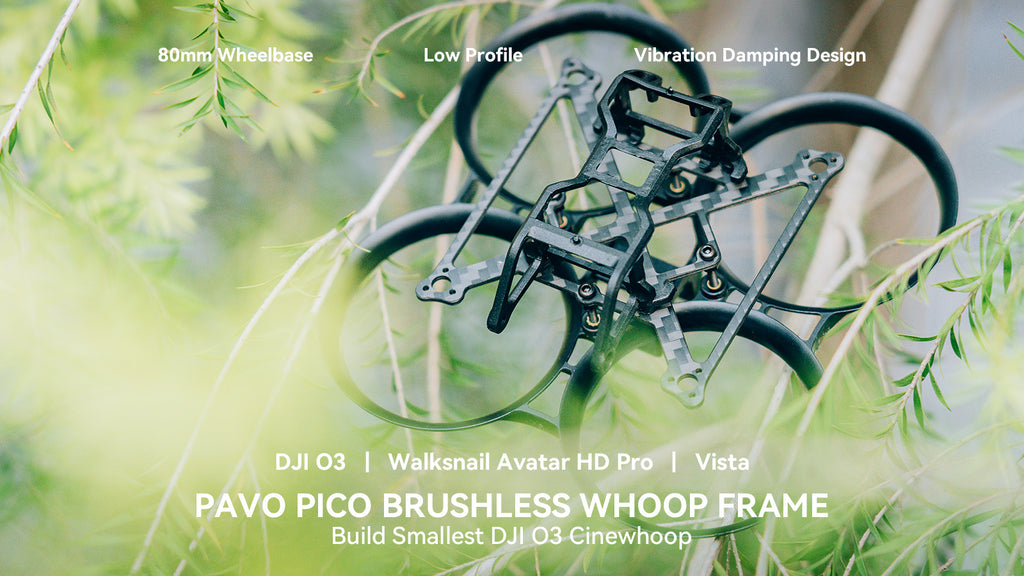 Features:
HD digital VTX bracket made of lightweight and tough injection-molded PP material with an adjusted structure to prevent HD VTX displacement or loss after the crash.
Incorporating an angle-limited lens protection print and DJI O3 series filters, It is recommended to purchase, which can increase safety and improve visual quality.
The Rubber Damper Vibration damping design reduces low-frequency vibrations and is used with GyroFlow stabilization software for a stable and clear camera image during high-speed flight.
To accommodate a wider range of battery sizes, the main body of the frame can be trimmed through DIY methods. Additionally, larger batteries can be installed by using battery straps or printed components.
The DJI O3 can be directly installed, while Avatar and Vista require a 20*20 mounting plate and screws (included) for fixation. The naked frame is suitable for users who DIY refit and assemble the HD VTX by themselves
We offer a wider range of colors for the Pavo Pico frames, giving you even more options to choose from. Whether you prefer a bold and bright hue or a more subdued shade, we have a color that will suit your style.
You can choose your favorite color or collect them all to create your own unique mix-and-match cinewhoop.
Specification:
Item: Pavo Pico Brushless Whoop Frame
Material: PA12
Wheelbase: 80.8mm
Battery Slot Size: 16mm*12.7mm
Camera Installation Spacing: 19mm/20mm
Color: Black/Blue/Transparent/Transparent grey
Weight: 13.80g/11.62g
Motor Mounting Hole Position: 3-M1.4-φ6.6mm
FC Pattern: 26×26mm, suitable for F4 1S 12A AIO Brushless FC V3
Includes:
Item: Pavo Pico Brushless Whoop Frame | With HD VTX Bracket
1 * Pavo Pico Top Palte
1 * Pavo Pico Whoop Duct
1 * Frame FC Screw Package
1 * HD VTX Bracket Screw Package
1 * 20*20 HD VTX Mounting Plate
2 * O3 HD VTX Mounting Bracket
2 * O3 HD VTX Antenna Mounting Base
2 * 5.8g Copper Tube Antenna
9 autres produits dans la même catégorie:
Les clients qui ont acheté ce produits ont également acheté:
Tattu R-Line 550mAh 11.1V 3S1P 95C XT30
BETAFPV Dipole T Antenna (2pcs) 80mm