Pavo20 Brushless Whoop Frame
Pavo20 Brushless Whoop Frame is designed for a 2″ DJI O3 cinewhoop under 150g. It also boasts compatibility with the Caddx Vista and RunCam Link and has undergone a comprehensive redesign to guarantee precise protection.
Employing crash-proof PA12 material, the frame features a reinforced cross-section whoop duct that has been ingeniously designed in accordance with the principles of aerodynamics, resulting in flawless synergy with an upgraded 3S power system.
This combination ensures an unrivaled level of thrust, surpassing all expectations. Undoubtedly, it emerges as the pinnacle choice for discerning pilots who seek to elevate their DJI O3 cinewhoop experience to unprecedented heights.
Features:
Integrated injection molding HD VTX mounting bracket eliminates the hassle of adjusting screw tightness, and hassle-free installation. The original transmission antenna can be directly mounted on the frame kit. 
Constructed with a crash-proof PA12 thickened whoop duct. Its reinforced cross-section design enhances the strength and blast resistance, employing the principles of aerodynamics and synergizes flawlessly with an enhanced power system.
Its camera side panel and the 4-point fixation design effectively safeguard the lens while allowing for easy installation of ND filters, eliminating any concerns about angle deviation after intense flights.
An open-ended battery strap slot including side-limitation slots ensures secure and stable battery placement that accommodates a wide range of batteries. DIY enthusiasts can even utilize 2~4S batteries. 
Note: 2-4S is for the Pavo20 frame, this Pavo20 quadcopter only supports 3S batteries.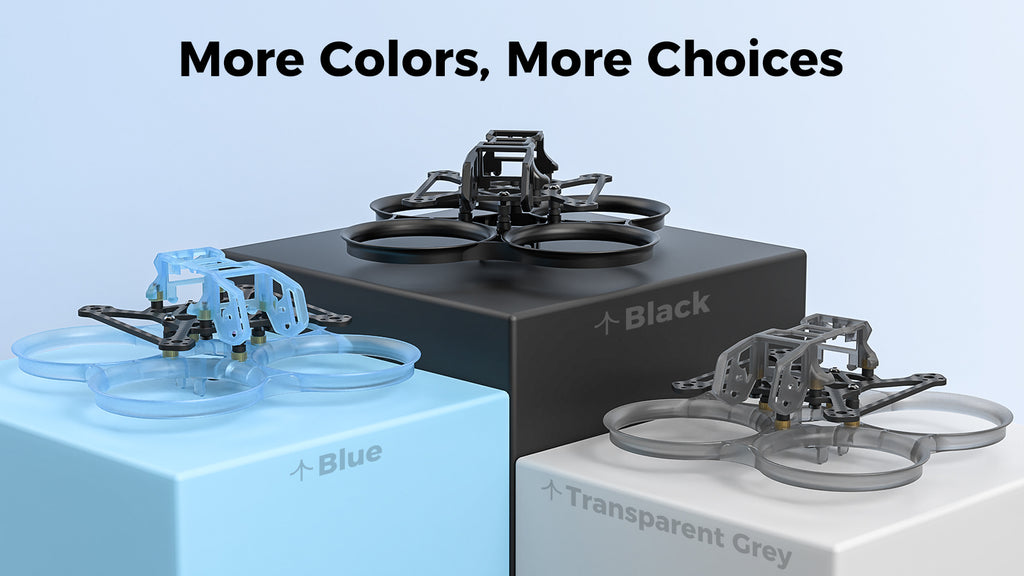 Specification:
Item: Pavo20 Brushless Whoop Frame
Wheelbase: 90mm
Material: PA12/PP
Weight: 26.7g(With HD VTX Bracket), 13.8g(Whoop Duct), 4.1g(Only HD VTX Bracket)
Color: Black/Blue/Transparent Grey
Top Plate Thickness: 2mm
Camera: 19mm/20mm
Camera Filter: Support
FC Mount: 26×26mm, suitable for conventional whoop FC
Motor Mount: 4-M2-φ9mm
Battery Slot Width: 20mm
Includes:
Item: Pavo20 Brushless Whoop Frame | With HD VTX Bracket
1 * Pavo20 Top Plate
1 * 20*20mm VTX Mounting Plate
1 * Pavo20 Whoop Duct
1 * Pavo20 VTX Bracket
1 * 130mm Battery Strap
2 * Battery Anti-Slip Mat
2 * 5.8g Antenna
8 * M2 Nut
10 * Rubber Damper
6 * M2*10 Screws
6 * M2*3 Screws
4 * M2*14 Screws
4 * M2*15 Screws
9 autres produits dans la même catégorie: